Beginner's Guide: Easiest Way To Start Buying Cryptocurrency
August 27, 2021
New to crypto? No problem. This is a beginner's guide for the easiest and safest way to start buying cryptocurrency using Coinbase. How to set up an account? How to fund your account? What fees are involved? And how to buy your first coin on Coinbase?
---
This guide is aimed at those who are new to cryptocurrency and want to get involved at a basic level in the trending cryptocurrency market by buying their first coins and holding them.
Note: This guide is not for those who want to actively trade coins on a daily basis as there are better-suited and more cost-effective options such as trading on an exchange like Binance.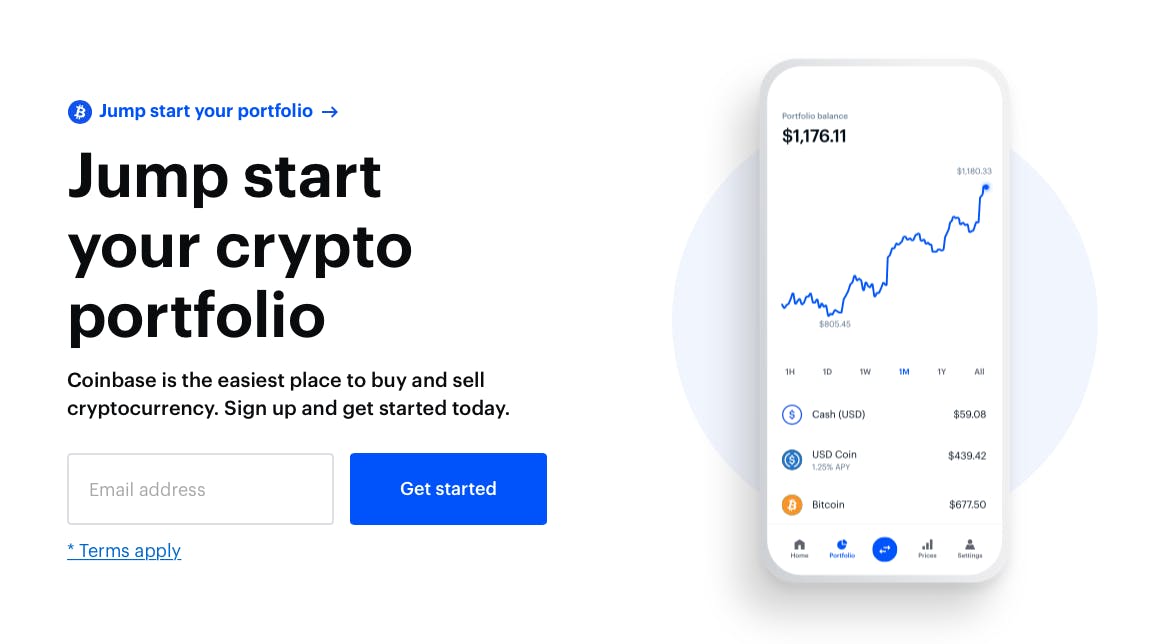 What Is Coinbase?
Coinbase is a well-established, trusted and easy-to-use platform for accessing the broader crypto-economy. The company was started back in 2012 and since then has grown immensely to enable millions of people to join the crypto revolution that is currently happening. They offer services for both individual and corporate entities such as borrowing, lending, buying, selling, investing, trusts, card services, wallets, custody, commerce and much more.
68+ million verified users
$180+ billion assets on the platform
Operate in 100+ countries
2100+ employees

Why Coinbase?
The reason I recommend Coinbase for beginners is that it is extremely user-friendly, easy to navigate and straightforward to use. They have a lot of guides and material aimed at new users to help them on their crypto journey and I recommend checking out their Crypto basics section if you want to learn more about cryptocurrency and trading in general.
App Or Website
As well as their website, Coinbase also has an iOS and Android app available which is free to download. This allows you to conveniently and easily buy, sell and check your crypto portfolio on the go.
Coinbase Hosted Wallet
You want to buy crypto, great, but where do you keep your coins? Unlike fiat currency which can be kept in a bank account or cash, cryptocurrency is a digital asset and as such you will need a digital wallet to hold it. Not to worry though! Upon signing up to Coinbase, a "hosted" wallet is automatically created for you - this is where your coins will be held.
It's worth remembering that a hosted wallet is a third-party wallet and therefore they are ultimately the ones actually holding your crypto. So be sure to choose a platform you trust! We discuss Coinbase security and insurance later on so don't worry.
Read more about the different types of digital wallets here.
Coinbase Earn
Coinbase Earn is a fantastic feature for new users, it basically encourages people to learn about different coins through a series of informative videos followed by an easy Q&A. Upon completing sections successfully you a rewarded a certain amount of the coin you just learned about which gets automatically added to your account.
If you are not yet ready to commit your own funds to buy crypto, Coinbase Earn can be a great alternative way to get hold of some free crypto to get started with. Once you have created your Coinbase account be sure to check it out.

Safety, Security & Insurance?
In a modern technological world where we are always hearing about cyber threats, internet scams and hackers stealing our information, the thought of buying digital currency will be quite daunting for many. Coinbase has many policies, procedures and practices to ensure customer data and funds are kept secure at all times.
Secure storage - 98% of customer funds are stored offline
Insurance - USD cash balances covered by FDIC up to $250,000
Industry best practices - 2-Step authentication, AES-256 encryption for wallets, mandatory strong password policy
Please remember that cryptocurrency is not legal tender and is not backed by the government. In case of a covered security event, Coinbase will endeavor to make you whole. However, total losses may exceed insurance recoveries so your funds may still be lost. 

Coinbase Fees
Wallet service - FREE
There is no cost to store fiat or cryptocurrency.
Crypto transactions - Variable
Coinbase may charge fees when you buy, sell, or convert cryptocurrencies. Fees are calculated at the time you place your order and may be determined by a combination of factors including the selected payment method, the size of the order, and market conditions such as volatility and liquidity. The applicable fees will be listed in the trade preview screen which will be surfaced before you submit your transaction, and may differ for similar transactions.
Additionally, Coinbase includes a spread in the price when you buy or sell cryptocurrencies or in the exchange rate when you convert cryptocurrencies. This allows us to temporarily lock in a price for trade execution while you review the transaction details prior to submitting your transaction.
Read more here.

What Coins Can I Buy On Coinbase?
At the time of writing, Coinbase offers 88 different coins including, Bitcoin, Ethereum, Litecoin and many more. Their list of supported currencies continues to grow and a full up-to-date list can be found here.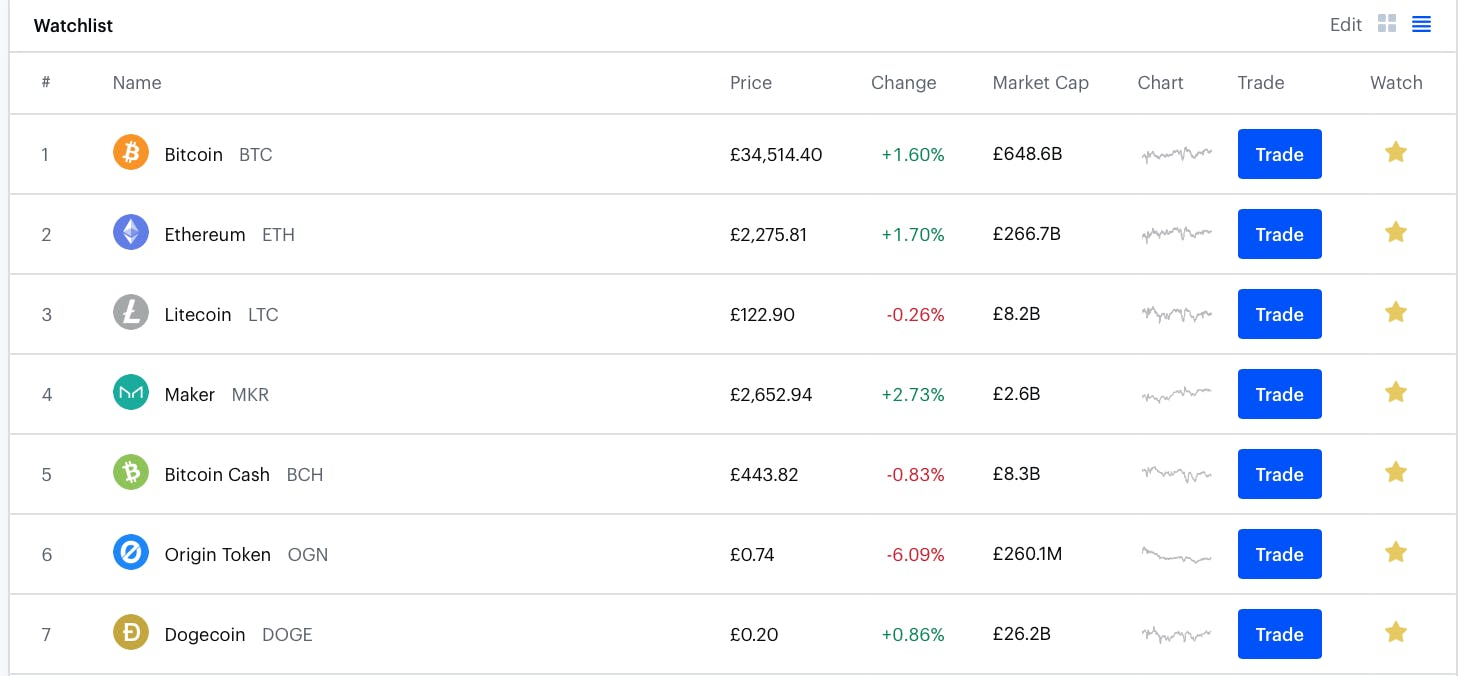 What Can I Do With My Crypto?
Hold - A lot of customers hold onto their crypto in the hope that its value goes up
Spend - Use your Bitcoin to pay for travel, shop online, eat at restaurants, and more. More and more places accept Bitcoin every day
Sell - Selling crypto on Coinbase is easy, and you can withdraw your proceeds to your bank or PayPal account
Transfer - Unlike sending money overseas, you can send crypto to anyone in the world virtually instantly
Convert - Want to own other crypto? You could, for example, convert any portion of your Bitcoin balance to another crypto

Creating A Coinbase Account
Creating a Coinbase account is simple, straightforward and can be completed in under 10 minutes. All customers are required to complete verify their identity and add a bank account in order to buy and sell crypto through Coinbase.
You will need the following:
18+ years old
A government-issued photo ID (In US? Can use Driver License or ID Card. Outside US? Passport or National Identity Card)
A computer connected to the internet
A phone number to receive verification texts
1) Creating an account:
Go to www.coinbase.com (this is a referral link that gets you £7/$10 in free bitcoin)
Enter your details
Click "Create Account"
Coinbase will send a verification email to your specified email address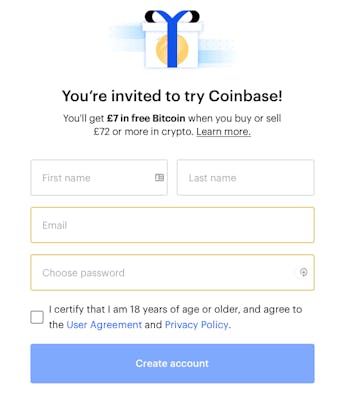 2) Email verification:
Select "Verify Email Address" in the email you received from Coinbase.com. This email will be from no-reply@coinbase.com 
Clicking the link in the email will take you back to Coinbase.com
You'll need to sign back in using the email and password you recently entered to complete the email verification process
3) Phone verification:
When you sign back in you will be prompted to add a phone number
Complete the steps on screen to verify your mobile number
4) Add your personal information:
Enter the information shown on your valid government-issued photo ID — you'll need to submit a photo of this ID later
Answer the on-screen questions
Click "Continue" to finish the process
This completes the application process. Please wait until you receive further instructions via email
5) Verify your identity:
Sign in to your Coinbase account
Complete ID verification
Recommended: Set up a 2-step verification app to help protect against unauthorized account access
6) Link a payment method:
View more countries for specific payment method information.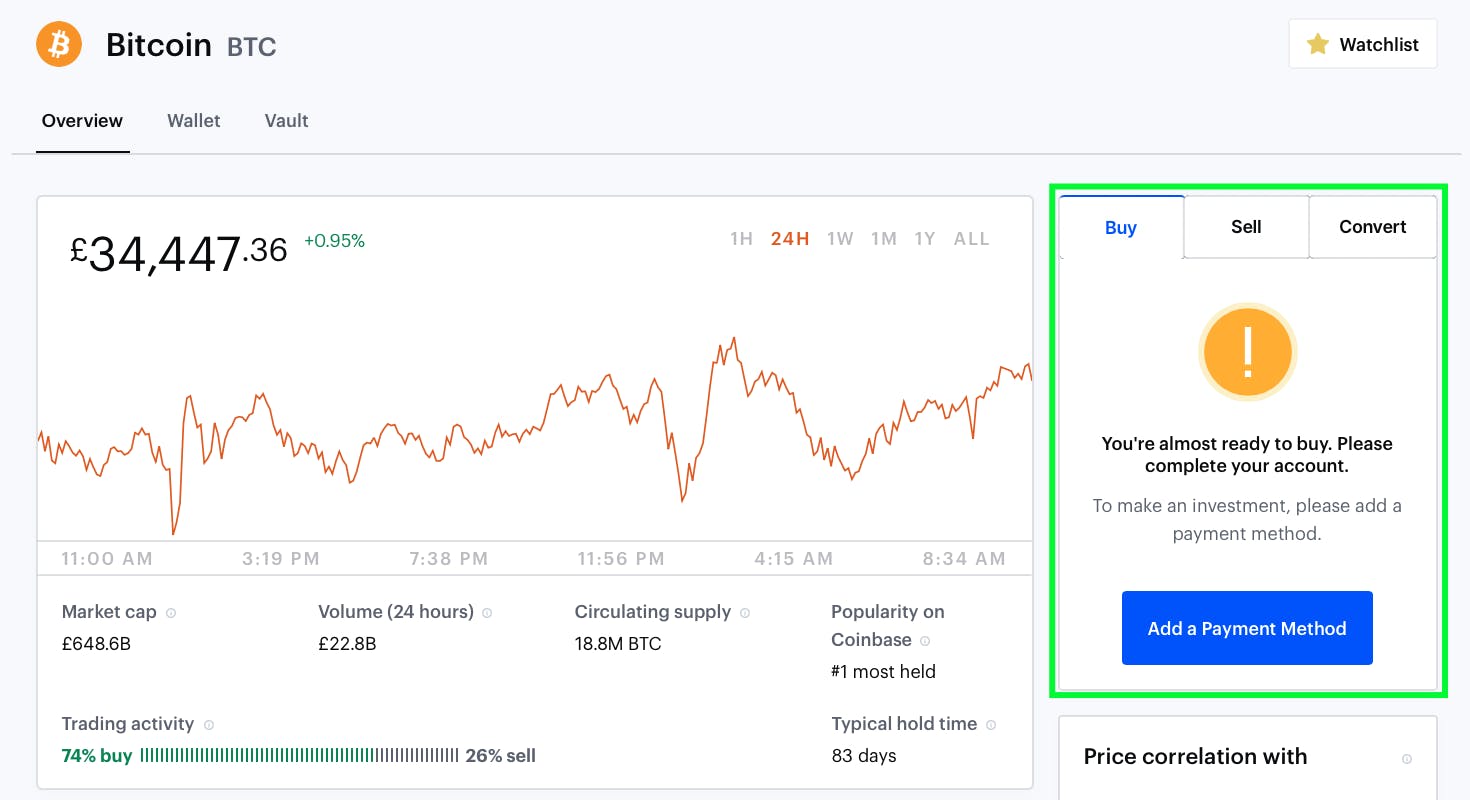 Buying Your First Coin
Now that your account is set up, you're ready to buy your first coin! The steps below are taken from Coinbase's guide so you can be sure you are following the correct procedure.
Sign in to Coinbase
Select Buy/Sell on the upper right-hand side
Click the Buy field to select the asset you'd like to purchase
Enter the amount you'd like to buy denominated in crypto or your local currency
Select your payment method
Click Preview Buy to confirm your purchase (you can always click the back arrow to make a change)
If the details are correct, click Buy to complete your purchase
Congratulations, you have just bought your first coin!

Need help?
Money left my bank account where is my digital currency?
When will my digital currency purchase or local currency deposit arrive?
When will I receive my cryptocurrency from my card purchase?
More answered questions at the Coinbase Help Center

Tracking The Value Of Your Crypto/Portfolio
Now that you've got some crypto, you'll want to track and monitor its performance.
This can be done by clicking the "Portfolio" tab on the left-hand side menu. You will then be shown a chart displaying the balance of your crypto holdings over time. Below the graph, it also shows you a percentage breakdown of the different coins that make up your portfolio and the amount of each coin you have.

Selling Your Crypto
When you sell your crypto it goes directly into your Coinbase fiat wallet. From there you can either withdraw to your bank account or repurchase more crypto.
Select Buy/Sell on a web browser
Select Sell
Select the crypto you want to sell and enter the amount you want to cash out
Select Preview sell > Sell now to complete this action

Withdrawing
Click the "Portfolio" tab on the left-hand side menu
Below the chart, in the "Your assets" section, select the fiat currency you would like to withdraw
This will take you to a view of your fiat wallet, on the right-hand side, select the "Withdraw" tab
Complete the form for the amount and where to withdraw to (PayPal, Bank Account, etc.) then click "Continue"
Verify the details are correct then click "Confirm"
Done


Full details and more comprehensive guides for getting started can be found at the Coinbase Help Center.

Planning on holding crypto for a long time?
Consider using a crypto lending platform that will allow you to buy the crypto you would have bought on Coinbase with the added bonus of receiving frequent high-interest rewards on that crypto while you hold it. Sort of like a savings account.
Check out our comparison between the 3 most popular crypto lending platforms, Nexo vs Celsius vs BlockFi